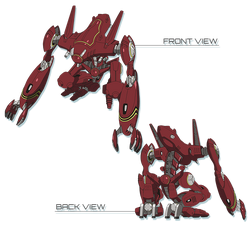 Bloody Hopper (ブラディ ホッパー, Buradi hoppā?) is a Trail Krieger that appears in the Shirogane no Ishi Argevollen television series. It is piloted by members of the Ingelmia Army.
Technology & Combat Characteristics
Edit
It's capable of jumping considerable distances due to it's lighter frame allowing for greater mobility. The arms act as shock absorbers when landing from jumps.
Special Equipment and Features
Edit
Height: 7.28 meters
Weight: 36.54 tons
Armaments
Edit
The GA-1510F BLOODY HOPPER is a specialized Trail Krieger used by Ingelmia. [1]
References
Edit