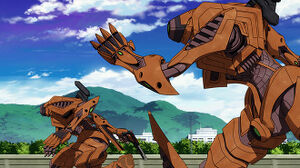 Perfevollen (, Perfevollen?) is a Trail Krieger that appears in the Shirogane no Ishi Argevollen television series. It's code name is AKATSUKI. It is a mass-produced model of the ARGEVOLLEN, and it's produced by the Kybernes Manufacturing Company.
Technology & Combat Characteristics
Edit
It utilizes the same U-Link System as the ARGEVOLLEN and STURM ALPHA.
Special Equipment and Features
Edit
The command unit has a function called, "Fascinator". It activates allowing the PERVEOLLEN to take control of every Trail Krieger that utilizes the U-Link System.
They are unmanned Trail Kriegers that receive instructions from a command unit.
Armaments
Edit
The Type 15-3 TK/SLV "PERFEVOLLEN" is a new, mass-produced Trail Krieger developed by the Kybernes Manufacturing Company. [1]
These models are the direct successors of the ARGEVOLLEN, thanks in part to the data gathered to run them. Ukyo Samonji is the commander of the unmanned units. [2]
References
Edit