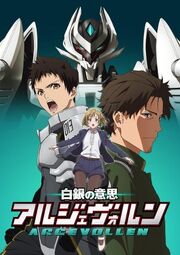 Shirogane no Ishi Argevollen (白銀の意思 アルジェヴォルン, Shirogane no Ishi Arujevorun?, lit. "Silver Will: Argevollen") is an original TV anime series produced by Warner Bros. Home Entertainment and animation studio XEBEC.
Development
Edit
On March 22, 2014, Warner Entertainment Japan announced the robot series "Shirogane no Ishi Argevollen" as their second original anime series set to air on 2014, after "selector infected WIXOSS." The official site opened on the same day, and the main staffs and casts were announced on the first PV.
The tagline of the series is: The guide is "Silver", to fight is "Will" (導くは『白銀』、戦うは『意思』, Michibiku ha "Shirogane", tatakau ha "Ishi"?)
The first opening theme is "TOUGH INTENTION" by KOTOKO, while the ending theme is "faith" by Sachika Misawa. For the second opening theme, KOTOKO once again appointed to perform "ZoNE-iT" and the new ending theme is "Vivid Telepathy" by Nami Tamaki.
Original Work - AIOS
Director - Atsushi Ootsuki
Series Composition - Tatsuo Sato
Character Design - Yūichi Oka
TK Design - Hirame Kikuchi
Prop Design - Kenji Teraoka, Yoshitomo Hara
Setting Research - Shigeru Morita
Art Setting - Nariyuki Ogi
Art Director - Norifumi Nakamura
Color Setting - Chiaki Kitabayashi
Director of Photography - Takuma Morooka
CG Director - Daichi Shinohara (OLM Digital)
Editing - Yoshiki Koda (JAYFILM)
Music - |Kotaro Nakagawa
Sound Director - Jin Aketagawa
Music Production - Music Brains
Music Producer - Noriko Dohi
Producer - Kohei Kawase, Takatoshi Chino
Producer - Nobuhiro Nakayama, Hideaki Sakaguchi, Ken Kawakita, Jun Fukuda, Fuminori Yamazaki, Tatsuya Ueki
Animation Production - XEBEC
Production - PROJECT ARGEVOLLEN (Warner Bros. Home Entertainment, XEBEC, Sammy, KlockWorx, Showgate, OLM, Bushiroad)
The story takes place in a world where two countries, Arandas and Ingelmia, have been warring against each other for a very long time. Tokimune Susumu, a young man belonging to the 8th Independent Unit of the Arandas Army, saves a girl named Jamie Hazaford when she is attacked by enemy forces. In order to survive, he pilots the new mecha ARGEVOLLEN and fights. The new mecha Argevollen is defined by its U-Link system wherein the ARGEVOLLEN molds to its pilot's mind, and cannot be piloted by anyone else. This customization allows the pilot to envision what the mecha will do in his mind to use it, rather than physically move and steer it.
| # | Episode Title | Japanese Release Date |
| --- | --- | --- |
| 1 | Encounter | July 3, 2014 |
| 2 | Awakening | July 10, 2014 |
| 3 | One Man Army | July 17, 2014 |
| 4 | Return | July 24, 2014 |
| 5 | Surprise Attack | July 31, 2014 |
| 6 | Run, Jamie! | August 7, 2014 |
| 7 | Bellhals | August 14, 2014 |
| 8 | Rematch | August 21, 2014 |
| 9 | Promise | August 28, 2014 |
| 10 | End of Absence | September 4, 2014 |
| 11 | Rage | September 11, 2014 |
| 12 | Reika Nanjou | September 18, 2014 |
| 13 | Blue and Indigo | October 2, 2014 |
| 14 | Ghost | October 9, 2014 |
| 15 | Sturm | October 16, 2014 |
| 16 | Freeze | October 23, 2014 |
| 17 | Defeat | October 30, 2014 |
| 18 | Farewell | November 6, 2014 |
| 19 | Resolve | November 13, 2014 |
| 20 | Another Mind | November 20, 2014 |
| 21 | Disturbance | November 27, 2014 |
| 22 | Capture | December 4, 2014 |
| 23 | Counterattack | December 11, 2014 |
| 24 | Silver Will | December 18, 2014 |
Characters
Edit